.::daily thoughts views opinions outlooks postures feelings rants loves glissades
impaires memories oddities observations nonsense vision viewpoint since 1998::.
.:: Tuesday, April 29th ::.
~ 10:21 PM ~

"...someone who cares enough about physical comedy to put his whole family at risk..."

Mets won. Extra innings with Wright hitting one to the corner with three on. They missed some chances earlier in the game.

I decided to give roasting my own coffee at home a chance. Going to try a Indian Monsooned Malabar at a city roast using the oven method.

~ 01:45 PM ~

"...Now that we've run this road so many times
Tonight it will not take us home..."

Ellis and I were lazy yesterday but today we will get out.

I don't feel bad about taking Sunday off from yard work since we had a freeze warning last night. They were encouraging people to bring plants inside. Local nurseries were covering strawberry and tomato plants.

Linktastic:
lsd_vs_alcohol_vs_tree
WTF
got accent?

.:: Sunday, April 27th ::.
~ 02:55 PM ~

"...your best option..."

Was not able to post an entry yesterday because I caught yard work fever, which I have none of today. It was the second yard session of the month. Our roses are looking strong as they had an off year last season. I had to replace two rose bushes last summer. My tomato plants have not arrived yet though. But, I mowed and trimmed the backyard for the first time. As an orthodox lawn mower, mowing tall grass with a self-propelled mower is a workout, which is the other reason I purchased it. I also spread mulch in the parts we mulch. I added a new flower bed last year where our hostas grow. I will have to move some of them as Neale wants a bush to hid the damaged fence. It is the neighbor's fence and was damaged before he moved in. He accepts the fence where I cannot. The hostas can enjoy the other corner I hope as the soil there was fouled by the previous occupants use of it as burn area I believe. So, most of the mulch is spread with some more to go and flowers need to be added.

Enjoyed the Mets online through MLB.tv. Hard to believe that they do not have ads between innings like regular TV. Gary and Ron did a good job once again. Missed Keith though. The new stadium looks great too. Leaving Shea will be full of mixed feelings as it a dump but the only dump I have know for the Mets. I will actually attempt to buy an artifact from the stadium...maybe a seat or two. The Diamond Vision will probably not be available. In our first visit to Shea in 2001, we appeared briefly on the TV to answer a Delta TV quiz question. I don't remember what the question was but we got it right. We never used the Delta flight voucher because you had to fly from New York to use it. They assumed that crazy people do not fly from Ohio to watch Met games. It was a great game to watch but it did rain. Neale stayed in the rain given my excitement for being in Shea for the first time.

Found some great Thai peppers at the Kirkwood Global market. Our Indian and Korean/Japanese/Chinese population keeps the place open for the most part. I made a stir fry with them yesterday and later I made hot sauce. It is a thai pepper and habanero sauce. I had the dried habanero to use and there is 100+ thai peppers to use. The best thing about the Global Market besides the wide range of vegetables available that are not in our big box grocery stores or farmers markets is the price. Also got some okra for gumbo. I will fight the urge to deep fry it.

Steve and Joan sent me coffee. Good stuff.

Linktastic:
Farewell
Everyone's Gotta Learn Sometime
Putting a dome over East Saint Louis...yeah, that is a great idea?!?!




.:: Friday, April 25th ::.
~ 08:31 PM ~

"...Your new-student eyes immediately graze over the firm young flanks of our females. And I won't have it! Capiche, amigo? There's nothing I'd like better than to put you new students back on the boat to where you came from. Comprend-zay vous?..."

We had to brace the foreyard as thunderstorms rolled through Webster this afternoon.

Tonight's creation:

@ 500 for 7 minutes it turned out great. I used my homemade frozen crust with tomato sauce, spinach, ricotta, and green olives. Our 18 inch pizza screen does a great job.

Hey, GI Joe the movie!

~ 03:09 PM ~

"...Oh, just a little bit of Americana for Drug Awareness Week. It's the Battle of Miami. Columbus here, fighting the pilgrims as they attempt to land..."

I thought it was thunder actually but we had another shake. Ellis did nothing this time.

~ 12:10 PM ~

"...Hey, Jerri. Wanna go throw stuff off the overpass?..."

Using a master recipe from our cheap but massive Classic cookbook ($3 @ Borders years ago), I made a roasted leek & Yukon potato soup last night at Neale's request. It was a double recipe. Dierberg's has had good leeks lately. Neale had roasted leeks in her smashed potatoes while in San Francisco. We will try that the night time we make potatoes.

I will grade today. The weather is good but may rain. I need to continue working on the backyard as well.

Neale is attending a jewelry party tomorrow.

Our Sirius boombox arrived yesterday. Great product.

Linktastic:
Download AVG Free Edition from FileHippo.com
like a feather

.:: Thursday, April 24th ::.
~ 02:14 PM ~

"...Number one- get your chubby chimp-claws off the copper-top..."

Neale will be in lovely Terre Haute, IN all of next week. Ah memories...painful, depressing memories.

Linktastic:
Florida
formal apology
transdermal celebration


.:: Wednesday, April 23rd ::.
~ 03:39 PM ~

"...Relax, people. They're going to be based on your requests which I'm sure you would have requested had I asked for your requests..."

I did some grading today and I caught up for the most part. Ellis and I should walk. Neale is having dinner with Debbie.

Linktastic:
TSS Radio
Sonos
shave


.:: Tuesday, April 22nd ::.
~ 08:46 PM ~

"...If you're gonna reach for a star, reach for the lowest one you can..."

We went for a walk as it was a decent day. On Saturday, I found packaged stuffed grape leaves at Costco for Neale. It is a product that can be hit or miss in packaged form we have found. She liked this brand though and wanted a lemon egg sauce (Avgolemono) with it. My first attempt was too thin so I tried another recipe. I added some arrowroot and it came together well.

Linktastic:
behind the house
monkey man



.:: Monday, April 21st ::.
~ 10:06 PM ~

"...If wishes and buts were clusters of nuts, we'd all have a bowl of granola..."

Great day here. Once again, we had the windows open. However, around 8PM, we had to search the house because we smelled a burning odor. Must have been something in the air from a neighbor.

The Mets...make us sad.

Neale used our laptop this weekend. I decided to upgrade the memory on it.

I went to see the New Pornographers promised that Neko Case would be there. She was not. However, she had a good reason.

Linktastic:
Number one- get your chubby chimp-claws off the copper-top
stollen
AB...the ONLY reason to watch the Food Network


.:: Sunday, April 20th ::.
~ 11:33 PM ~

Stollen is born. Still eating my fruitcake...should not have told you that.

~ 12:03 AM ~

"...I got up
'cause you pulled me up
I stood up
'cause you pulled me up
I got up
And that was because you pulled me up
I got up
In a little while you pulled me up
Pull me up up up up, up up up up!
Pull me up up up up up up up up!..."

I went to the New Pornographers show tonight. Despite not being sold out on the Pageant website, it was more crowded than the Drive By-Truckers show. Once again, my Guinness came in a glass. I left at 8 but had some trouble finding parking. But, I did miss the opening act as I planned to. I have to admit that seeing Man Man at the Modest Mouse show was the highlight of that night though. TNP did a good job but Neko was not there so I was bummed. My fellow concert goers gave me some memories. First, who was the person with uncontrollable fatulence? Wilco Tango Foxtrot!?!? Second, to the person that is keeping Pabst Blue Ribbon in business, why? Yes, I know Frank Booth gets an exception on this.

I made our first batch of homemade buckwheat flour pancakes this morning. Quite good. Also, in my continued avoidance of corn syrup, I tried real maple syrup on them. Pretty good, I reckon.

I went to Costco this afternoon for supplies. The red head check out woman noticed my dusty bottle of Marker's Mark, which was for my bourbon stout. She wondered if it got better with age. Well, most things do. Maybe her too....

The continuing veg pattie situation continues with my neighborhood Subway. This time they did not know where it was (again) and did not heat it up. Luckily, it was good cold.

Ellis and I watched the Mets on Fox AGAIN this afternoon. Miss Joe Buck though. He can be seen at the Ladue Pharmacy on New Year's Day though. Bob Costa's annual charity event was tonight as well.

Neale went to San Fran...put some money into travellin'.

Linktastic:
bluescreen
slower
tweaker




.:: Friday, April 18th ::.
~ 04:18 PM ~

"...At night he becomes a bartender
He works at mister cacciatore's down
On sullivan street..."

I missed the actual earthquake but Ellis and I did feel the aftershock at 10:17AM. Despite the constant rain, everything else is fine.

Linktastic:
Colbert bump
pipes
tea



.:: Thursday, April 17th ::.
~ 12:08 PM ~

"...time to get wize..."

Neale got a ride from Britt to the airport. Ellis and I are on our own.

New Pornographers this weekend, probably brew a bitter, and work in the yard.

Ellis' page has been updated.

Linktastic:
Obey the Corgi
down by the river


.:: Wednesday, April 16th ::.
~ 06:17 PM ~

"...under the spell and I don't wanna be..."

Today was College Visitation Day so I manned our sociology table in the Commons for two hours. Visiting high school students can come and ask questions. The first conversation I had was with a student wanting to go to seminary school. He told me Christianity was not a religion, he was not interested in comparative religion classes, and afraid of philosophy courses. I can paint you a picture but I think you get the idea. Overall, good experience once again and spent time with colleagues.

At the request of my doctor, I went to have blood work done. Everything was excellent and I asked about my cholesterol, which was 168. Feel pretty good about all that.

Linktastic:
Duck and cover
Dog balances a ball?




.:: Monday, April 14th ::.
~ 01:34 PM ~

"...love me to death..."

We had a great weekend. Yesterday, we watched Anna play indoor soccer, visited Bill's grave, saw Bill's house for the first time in months, visited with Judy and had a late lunch with Steve and Joan at the Rotten Apple. Neale's cider was very good and they had Dogfish 90 on tap. We met Sara at Tony's for a drink and a full day was ended. Ellis was alone for 9 hours and missed his humans.

I am experimenting with a RSS feed. Developing...

Linktastic:
HardBall Times


.:: Saturday, April 12th ::.
~ 11:47 PM ~

"...star chamber..."

"I believe that the very purpose of life is to be happy. From the very core of our being, we desire contentment. In my own limited experience I have found that the more we care for the happiness of others, the greater is our own sense of well-being. Cultivating a close, warmhearted feeling for others automatically puts the mind at ease. It helps remove whatever fears or insecurities we may have and gives us the strength to cope with any obstacles we encounter. It is the principal source of success in life. Since we are not solely material creatures, it is a mistake to place all our hopes for happiness on external development alone. The key is to develop inner peace."

~ 07:57 AM ~

"...that's a savings..."

Steve and Joan are in town. We went to Trattoria Branica for our dinner with them. I am partial to the Hill but it was good. We will ask for a wine list next time as the house cab sav was just ok.

Neale, Steve, and Joan went to see Britt play soccer in his adult league after dinner. He played well.

Today, if we can avoid the rain and tolerate the return to 40 degrees, we are going for a walk and then to Anna's first communion party.

Linktastic:
room 8
that moment



.:: Wednesday, April 9th ::.
~ 11:06 AM ~

"...lucky numbers re 15...19...32...65..."

I am trying the Tomato Giant. The squirrels will face a web of chicken wire. If this is successful, then we will do canning of tomatoes, salsas, and sauces.

Linktastic:
spiked tofu
korova cookies


.:: Tuesday, April 8th ::.
~ 07:21 PM ~

"...I can ride my bike with no handlebars..."

We went for a ride yesterday and played ball with Ellis in the yard for 30 mins. Today, it is rainy so we are taking the day off. My legs are feeling it from the three days of riding.

I made a red onion sauerkraut with Boca sausages for dinner and I made Neale a butter chicken, which used fat free yogurt instead of cream. I want to pull back on the tomato and add better curry next time. However, she liked it, which is what is important. Tomorrow, she is having dinner with a former coworker.

I may do flower and shrub planting over the weekend. I am considering boxwoods in the corners.

Linktastic:
fine films




.:: Monday, April 7th ::.
~ 07:33 AM ~

"...spiderland..."

Yesterday, it was too windy for Neale to ride but I went. Saturday was our first day out this season. The park was being used by a soccer club for college scouts to view local high school players and the lacrosse crowd was there. So, the parking was crowded. They are fixing a part of trail that crumbled due to ground water as well.

The weather was nice this weekend. I cleaned the garage and moved a few items to Goodwill. The backyard received attention on Sunday. We are putting a path between the house and the large silver maple. It will cover the roots and mud there. Plus, it expands the flower bed off the house for more plantings. It will rain this week but I can overseed today. The flowers are coming in next weekend. I also cleaned the backyard, patio, and patio furniture. Neale played tennis ball with Ellis twice so by 8 he was pretty much a lump.

I made Neale a lime chicken with grilled asparagus and spinach. Costco has been having a good deal on spinach and I have been hungry for it.

Despite my struggles with hash browns, my first attempt at vegan corned beef hash turned out well. I used this recipe as a starting point. Boiling the potatoes was helpful. With bananas in the house, it is only a matter of time before banana pudding is made.

After a winter of brewing regularly, I have grains that need to be used and I developed a new ESB recipe. The celebration stout will be bottled this weekend, the abismo stout (bourbon stout) racked, and the cider moved too.

Linktastic:
rock
factory
brew
dinner

.:: Friday, April 4th ::.
~ 11:55 PM ~

"...lux aeterna..."

Neale was up for work but felt ill. So, she used a sick day. I had to have some blood work done since my doctor requested it. I visited our doctor on Wednesday and had the yearly check up. The visit was better than the last time. In short, great doctor but the office needs improvement. For example, I was the third patient and my appointment was delayed by over an hour. If we are going to stay with this doctor, I have to make my appointments at 9 when she opens. But, we have not decided to stay yet.

After the lab, I visited Wired Coffee to start my day and realized why I had never heard of Wired Coffee. It was not special. Kaldi's is the best in STL that I have had, Starbucks is good too (sorry haters), and the coffee hut in Brentwood does a good job. I saw that Steak and Shake is serving Seattle's Best so I get to visit them for the first time in 13 years.

With coffee in hand, I went to Ace Hardware for lawn supplies since spring is finally showing up tomorrow. I want to overseed and patch a part near our pine/fur tree. In our yard near the curb wear I park my car, we have a 'cave in' or sink hole. I noticed it last Tuesday and it has not gotten worse. But, it is 2 X 2 and looks bottomless. I called Webster and they sent out a guy to place a traffic warning sawhorse to compliment my caution tape. We don't want a neighborhood kid on his or her back from school falling in. Developing....

I also stopped at Schnuck's for some stuff Neale wanted and bananas since she likes those when she is ill.

Walgreen's got my script renewal and I went to Costco.

When I returned home, Neale was still in bed and Ellis was guarding the bedroom door. She was awake and feeling better. After some bananas with wheat germ, she felt like Sweet Tomatoes. We went for a family walk after lunch.

She started an "Arrested Development" marathon while I graded. I also returned to the Soloflex, which felt great to do.

Tomorrow, we plan to ride our bikes and I want to work in the yard. I want to clean the garage too.

Linktastic:
What Locales Eat in the STL
yes, I would laugh
Korova Cookies


.:: Monday, March 31st ::.
~ 06:44 PM ~

"...sweet lady h..."

We went for a walk before the rain. We both took the day to help Britt & family move to their new home in the Chesterfield Valley. It is probably their last place as it is really big, really nice, and new.

I helped move the weight set and smaller items. Debbie, Neale, and me used our cars to get what the moving trucks (all 3) could not hold. The way from their old home to new place seemed like a trip to KC (like my trip last week to Fazio's). But, my trip home was shorter as they are not that far from Hwy 40. It rained terribly hard today, which slowed the move.

There is a small hole in our yard near the curb. All the rain may have caused it. I will take a better look after the rain.

Linktastic:
No Olympics
really we have changed



.:: Sunday, March 30th ::.
~ 03:27 PM ~

"...make a noise..."

Neale went to find materials to redecorate her office. She was very happy about the change.

Ellis gets a bath soon. It is rainy out so he have to forgo a walk. Plus, I am feeling lazy. I did vacuum though and plan to brew after I get water. Tomorrow, we are helping Britt move into their new home.

Neale is hungry for pesto so I will make that soon.

I racked my stout last night.

Linktastic:
Naked Thundercats?
toolkit
gone missing


.:: Saturday, March 29th ::.
~ 05:50 PM ~

"... slippin' into darkness..."

We went for a walk. I started a batch of Sunday gravy before we left. I was taking stock of the fridge and had some sauce ingredients in various containers. After the walk, we went to Trader Joe's for some cheese, Neale's salads, and wine for the sauce. Since the Petsmart next door was having an adoption day, we stopped in to see the dogs and cats. Neale got Ellis a new toy, which he is chasing around the basement right now. I cleaned the house and the Mets are in the Civil Rights game on ESPN. We have a Man U. game to watch as well.

Since I have a beard these days, I have to define the neck and I use my free in the mail Schick Quattro. I burned through the free cartridges they sent with it and had to buy replacement blades. 4 for 10$?!!?!?! Really. How is electric bad again?

We made popcorn last night. Tasty.

Linktastic:
falafel
Rick roll?
Iron Horse

.:: Friday, March 28th ::.
~ 02:49 PM ~

"...feeling good..."

I went to lunch with Neale at the Tropicana Market, which is a Cuban restaurant and small market. She had the mole chicken and I had chile rellenos.

Yesterday, Sean and I showed "TransAmerica" as part of the diversity film series. The film is worth your time if you have not seen it.

My new Soloflex 10lb. straps arrived but the 25lbs. are back ordered. I am missing working out.

Linktastic:
end up in the city
pretty much explains it
vegan

.:: Wednesday, March 26th ::.
~ 08:37 PM ~

"...number 5..."

My night class had a 'project night' so I was not on campus this evening. They have time set aside to work on their course projects, or presentations that they do during the last week. The education classes focus on subjects related to public schools. However, I did have a diversity council meeting, which is the committee I run. People like the committee because I run the meetings efficiently and only call meetings when we actually have to have a meeting. This afternoon we planned the 2008-09 calendar and are adding films on Islam and paganism. We also have a budget so there is money to spend. Overall, we are getting better every year and more people are showing up. Tomorrow, Sean and I are showing "TransAmerica".

I graded this morning and made Neale pot roast for dinner. The sauce turned out well. I also steamed potatoes and carrots as a side dish.

The meeting with our Edward Jones investment manager went well. We have a money market and an American Funds plan through them.

Linktastic:
photos from the war
eat and let eat
Butler student welcomes Chelsea to the big leagues
.:: Monday, March 24th ::.
~ 03:43 PM ~

"...I don't do diplomacy..."

Sirius-XM merger has moved...slightly. It really is a great service.

Last night, the pear tart became more of a pear crumble. The pie shell I bought from Whole Foods was not cooperating. I was attempting to skip the making of a crust last night since I was also bottling my kolsch. Overall, it was a tasty dessert.

We are heading to Edward Jones to discuss an investment strategy. The guy is the friend of a friend. Neale liked what he said on the phone so she scheduled a meeting. Afterwards, we are going out for dinner.

My Soloflex straps are not here yet so I have missed two workouts. Patience.

Linktastic:
future food
well, that's odd



.:: Sunday, March 23rd ::.
~ 04:55 PM ~

"...Happy Easter..."

Yesterday, Neale was not up for it so Ellis and I walked and played ball in the park. After the ball playing, we took 2 laps around the park. When I had Ellis off lead, he noticed a beagle in a fenced yard. He went to investigate and the owner was with the dog. The owner invited us in to the yard and Ellis played with the beagle for about 10 minutes. The owner (Will) rescued the beagle from a Missouri puppy farm.

Thanks to Fark I now have this guy in my life. My tra la-la-la.

Neale will be in California that weekend but I am seeing the New Pornographers. Sadly, it is the closest I will get to seeing the brillance of Neko Case in the STL. My true love died in a pan of oil...

We had brunch at Yia-Yia's at 9:15. It was empty and the snow added an odd effect. Neale had the biscuits and gravy as it was too early for pasta. However, there was a Ditalini dish that I mixed in with some greens and roasted/smoked vegetables. The bloody mary bar was a appreciated. Neale went for a traditional celery garnish and I used a carrot. There flan was excellent. The bagel was clearly frozen at some point. Then, we went downtown so I could move Neale's office furniture. She stayed to continue cleaning and I went to Whole Foods for pear. I am making the pear tart tonight. I also have to bottle my kolsch.

If I have not mentioned it, I met one of our new neighbors last week. They are nuns but liberal nuns that support Obama. Our yard sign started the conversation.

Neale got food from Panchero's yesterday. Very good stuff and easily in the top three burrito places in the STL. Nacho Mama's (when your really hungry), Moe's, La Salsa, and Panchero's are really good. The Chipotle here over salts their chips and Qdoba is in a bad location. Baja Fresh is a distant, but great memory.

The Dawgs put up a good fight.

Linktastic:
I wanna be adored


.:: Saturday, March 22nd ::.
~ 11:49 AM ~

"...showdown at Big Sky..."

After watching Video Jug for the better part of an hour, I was encouraged to make fried rice for breakfast. Also, the butter chicken will probably be on Neale's menu this week.

I made baguettes this morning too.

Linktastic:
vegan bits
abbey road



.:: Friday, March 21st ::.
~ 10:58 PM ~

"...She's my Sister Anne..."


Created by OnePlusYou - Free Online Date

Ellis and I went for a walk around noon.

In the afternoon, I watched my NCAA bracket crumble as Connecticut, Drake, Butler, and Vandy bested my guesses. But, I am still about 88.00% overall.

I graded exams.

I went to Costco late in the afternoon since I was out of protein powder. I also got a car wash.

Since Neale is out, I was able to open all the windows and welcome spring. But, it got cold after sunset.

Video Jug is still very good. Butter chicken and pear tart soon.

~ 12:06 AM ~

"...Long way going to
Get my medicine
Sky's the autumn grey of a lonely wren..."

My usual trip to the grocery store was modified by a woman having an intense conversation about how to cook a ham with the butcher. Yes, it is Easter. We are having brunch on Sunday. It is an early brunch because we made reservations late. But, I get to move Neale's office furniture afterwards.

We went for a walk as it was a very good first day of spring here. However, during our walk, a neighbor stopped us to ask if we had seen a labapoodle and a pit on the loose. Less than two minutes later, we saw the dogs on a dead run north on Selma. Actually, Neale saw them. We went to follow them but they were gone. They had tags on, which was helpful for the owner.

I was hungry for a soyburger and chips. Neale asked from some chips after our walk. I find that soaking the fries in ice cold water for 10 minutes helps the finish product.

The oak barrel bourbon stout begins on Sunday.

Neale thinks I can do what Duff Goldman has done with his beard. However, she means this season of "Ace of Cakes". My beard is now on week 15. I am skeptical and considering following Marx's lead on this.

This afternoon I am grading exams. Neale is visiting Sarah. Goodnight.

Linktastic:
hurdy gurdy
softball


.:: Wednesday, March 19th ::.
~ 03:39 PM ~

"...where is it?..."

The good news: I use our Soloflex regularly and I broke two straps. The bad news: Not quite the same workout. The straps are ordered.

The rain passed so Ellis and I got out to walk.

I appreciate Mr. Obama for having the willingness to talk about race in a responsible and honest manner. As someone that teaches this topic, it is not addressed enough.

~ 11:16 AM ~

"...Rosencrantz and Guildenstern are dead..."

We have had three days of rain. Ellis is wishing for better weather. I have been using our treadmill though.

I bought blueberries at Costco over the weekend. Besides eating them with some Splenda and/or cream, I made Neale blueberry pancakes last night. The electric skillet was perfect for the task. The soda bread is cooking now. Over the weekend, I want to make a pear tart.

Neale is cleaning her office. I may be needed to move furniture.

Since Britt & family are moving soon, I get their old couch for my office at work. I need one and we will buy a cover for it so it will look like it belongs in my office.

"Rosencrantz and Guildenstern are dead" was on this morning. We have a new channel called "indieplex" since we switched to AT & T. "Breaking Away" is on now.

I am checking up on work materials. I am caught up but I need to start grading exams on Friday.

Linktastic:
Solar
gunfight (nsfw)


.:: Monday, March 17th ::.
~ 01:28 PM ~

"...St. Patrick's Day..."

Yesterday, we went to the Maplewood Dog Park, which was empty. We do not have a permit/pass for any park yet. We are researching which one (there are 4 or 5) is most active. After that we tried a new park that has more green space near use so Ellis could play play outside. After 20 minutes, we had him exhausted. He chased the ball and us around. Next time, I will take the camera.

Neale watched the Arsenal game. I figured out how to Tv-out my video card as the Mets were only on MLB TV. The SNY game was not broadcast. Then, I moved Neale's Sirius to the left side of her car since the dash mount was blurred by the sun after the time change.

As you can see above, I made my first attempt at beef bourguigon. I marinated the beef for two days and went with the strain method for the sauce. I also skipped the pearl onions as Neale is not too fond of onions. My potato puree was a little on the smooth side so the potatoes did not stand up. But, she loved it and the liked the plate presentation.

It is back to work for me. I am in my office and since I kept up over break, I am good shape to start grading exams which are due tomorrow.

I worked out this morning and it is rainy here so we are walking inside.

Linktastic:
At the right time
types




.:: Saturday, March 15th ::.
~ 02:42 PM ~

"...gonna cut you down..."

We went for a walk. A neighbor asked us where we got Ellis and asked about our breeder. The neighbor had a corgi going up. This was started by her kid asking if he could pet Ellis.

Neale is out buying a small clock, some clothes, and spring jacket. With the Charter Moxi leaving, there is no longer a clock near the main TV. She would like to know at a glance.

With the AT & T U-Verse, we now receive SNY, or Sports New York, which is the home of the New York Mets. All the games on SNY are in HD.

Ed was kept overnight. They are still running tests. Neale is going out to dinner with Debbie at Cardwell's at the Plaza.

My faithful mini Mag lite bulb died so I decided to switch it over to LED. The LED Mag Lite (4D) we have is much better than a traditional bulb and greener.

Linktastic:
Awareness Test
Minimum Security
Your dog on the running board
GI Joe Parodies (nsfw)
Jumping without a chute


.:: Friday, March 14th ::.
~ 10:12 PM ~

"...why timmy?..."

The kitchen sink was draining slowly and then not at all. I called Rescue Router in the late afternoon. They arrived and determined it was a food related clog. They fixed it. The plumber was not a fan of garbage disposals.

We got salads and Dewey's for dinner.

We received a call from Neale's mother that Ed, her boyfriend, was having some back problems and went to the ER. She is there with her.

~ 04:11 PM ~

"...top of your head to the tip of your toes..."

The AT & T U-Verse installer arrived around 9. Of course, our existing phone system (or "drop") needed to be updated as well. This was not a problem as AT & T was operating smoothly. The call went out and we had another AT & T worker at the house. The installer cannot climb the pole or install the new drop box so it took two to do it. They were done by 1. Excellent job. The U-Verse is better than Charter and word from the installer is that they have a temp service collecting their boxes back. Charter does not have too many supporters in the area and their rate hikes in Illinois has soured customers on the other side of the river.

I made bram brack. Tasty. Irish soda bread is next.

Linktastic:
The Amber Room

.:: Thursday, March 13th ::.
~ 07:09 PM ~

"...sympatico..."

I went to Dierberg's early this morning since I am on break. They had some great leeks and Neale like potato leek soup. She found the garlic soup from earlier this week having a bit too much roux. I liked it but as a first batch of garlic soup there is room for improvements. However, we do have slightly different soup tastes. We do agree on the potato leek, a little on the thicker side.

I also started her beef bouruignon.

Ellis and I went for a walk as the forecast predicted rain in the afternoon. Also, I wanted to start painting the basement. I finished the stairwell, north wall, and built in closet where our DVDs are kept.

~ 09:29 AM ~

"...good night and good luck..."

Linktastic:
A Best Kitchen
.:: Wednesday, March 12th ::.
~ 07:54 PM ~

"...thorns of a rose..."

We went for a walk. It was 70 here and I had the windows open. However, snow possible on Saturday. Spring is next Thursday though.

We are watching History Channel's "Modern Marvels: World's Sharpest". They discussed Cutco knives, which I have received emails from in my junk mail. I thought it was phishing scam and they were playing off the name Costco. Well, they are real and real expensive. However, if I had the money, I may be interested in pursuing them since they have a great warranty. We are still using the Main Ingredient set from Dillard's, which was a wedding present. I sharpen them at home and repainted the block over the summer. They work well but I would like a little more heft in the handle. We did replace the kitchen shears since we broke the originals. The current shears are from Messermeister.

Linktastic:
record company screw ups



~ 10:16 AM ~

"...lock yourself in..."

It is warm and sunny here today. I would get excited about switching the house & yard over to spring but we are getting rain for the next 5 days. Last fall, I start a new flower bed in the backyard SE corner because nothing grows there due to a lack of full sunshine. So, it was always muddy and unappealing. With some mulch and shade plants, it started to look better. I plan to do the same in the NE corner since it seemed to be the previous residents burn area. The ground is yet another low point. I am not sure when they outlawed backyard fires in Webster. I hear the trick is, if you really want to burn something and do not mind talking to the police, you treat the fire like a bar-be-que. The law does not state what you can use as fuel so if you have a fire and a pack of hot dogs you can exploit a loophole. But, you also become the instantly despise resident of your block. Needless to say, I am not burning anything.

Around the silver maple in our backyard, I have never had grass grow there either, which creates a muddy area. However, this area is also a walkway into the back yard. We decided to mulch the area and continue the walkway I laid out on the north side near the garage. Also, it will make the bird feeder area cleaner and discourage Ellis from snacking on bird seed. Overall, the backyard is much better than when we moved in.

Yesterday, on NPR's Fresh Air, there was a great interview with the creator of BeliefNet and his new book. The myths and distorted history about the religious nature of the US at its founding needs to more widely discussed. Likewise, the lack of understanding and, in some cases, outright bigotry towards Muslims is not a declining problem.

I am donating later this afternoon.

Linktastic:
Chicago Eats
Critical theory

.:: Monday, March 10th ::.
~ 04:01 PM ~

"...20 days until Opening Day..."

It is the first day of my spring break. I am doing as little as possible. Stumble Upon is helping me pass the time. I do have things to do this week though.

Caldwell's at the Plaza was good. Neale had the chicken stir fry and I had the warm pear salad. We shared the goat cheese torte. I actually prompted dessert and we tried the winter sampler. What was life like before blood orange sorbet?

I had my decision on a new acoustic almost done until I see this. I am still leaning towards Washburn or Guild.

We got one more step closer to owning a Prius. The Lancer is paid off.

Linktastic:
e-cycle STL
Rate beer

.:: Sunday, March 9th ::.
~ 04:34 PM ~

"...You never told me about your cat milking days in Motown...."

We slept late, which was later than usual with the time change. We went for a walk and had lunch at Goodcents. I read the Webster Kirkwood Times, which is full of items that you find in free weekly papers. The letters and police report are usually good for a laugh. Despite shootings at government meetings and petty thefts at a Starbucks that results in the death of a Good Samaritan, we have a person writing the word 'cream' around town.

We did a short drive to find the PC recycling center, which is in a industrial park. Of course, it was not clearly labeled and we found nothing. Then, we looked for houses on the market in Webster.

We are trying a new restaurant tonight.

Linktastic:
Working Out
Frozen Beer
Expensive Beer
91.9 FM Louisville

.:: Saturday, March 8th ::.
~ 05:17 PM ~

"...can you deal with this?..."

My biscuits turned out well. I am satisfied with the recipe and the technique. However, my hash browns still need work. I also made a batch of blueberry muffins, which thinks is one the best things I make. This morning I made a garlic soup.

We received a call from AT & T stating they may come today to start the conversion to U-Verse. It turns out that was wrong call as Neale rescheduled the appointment for this coming Friday at 8AM. But, we did wait from 12-2 just in case. After that we went for a walk. She is currently returning some clothes but promised to bring home food from La Salsa. I went to Whole Foods for water to brew my Celebration (Guinness clone) stout. I picked up a Trappistes Rochefort 10. and a six of Anchor Brewing Old Foghorn. Hey, how about more about barley wine?

Powered By Personal Massagers

Linktastic:
the piano has been drinkin'
Online TV



.:: Friday, March 7th ::.
~ 06:02 PM ~

"...And if death should smell my breathing as he pass beneath my window..."

Neale is back. She took a wrong turn and ended up outside Springfield. She added an hour to her trip.

AT & T may come tomorrow to install our new U-Verse cable service.

It turns out Goodwill, despite what their website states, does NOT take computers. But, another donor gave me a place down the street that does take PCs. Nice people...their around. You just have to look for them.

I stopped at the Wine & Cheese shop for beverages. Also, Neale likes chocolate covered pears. I selected a bottle from one of my favorite wineries, Gundlach Bundchu. She is enjoying a 2003 Mountain Cuvee. I am trying something new, the Starboard Stout from Arcadia. It is decent but not too special.

I made my first visit to Cartridge World. I saved $24 over buying new cartridges. However, I am bringing them in a bag next time. I got ink on my hands.

Linktastic:
A Day in the Life
Creation Myths
Family Guy streams
Connect Four

.:: Thursday, March 6th ::.
~ 10:59 PM ~

"...derby..."

Linktastic:
What is came from?
TV

.:: Wednesday, March 5th ::.
~ 01:15 PM ~

"...make a mess..."

Neale offered to play Scrabble last night. She won but I closed the gap.

Linktastic:
GOOG 411
nice place
Black Dog

.:: Tuesday, March 4th ::.
~ 04:37 PM ~

"...nothing goin on..."

I had a snow day. We got about 7-8 inches of snow. I shoveled at 12:30 and Neale came home around 1. She finished her report and the AC Milan v. Arsenal game was on ESPN2 HD. Needless to say, the Gooners won 2-0. She was very happy.

I am making broccoli cheese soup for dinner. On Sunday, we are trying Cardwell's At the Plaza. Neale's father, Steve, has gone veg for the last few months (no dairy, but fish) and we want make sure we have somewhere veg-friendly and nice for his visit in April. Our niece, Anna, is having her first communion and that is his motivation for a visit.

Ellis was up to his shoulders in the snow. I saw some fool walking their dog in this.

Linktastic:
Moses was high on drugs
I'm her Daddy
Revision 3
Pembroke Welsh Corgi Association of Canada
John Barleycorn (live)

.:: Monday, March 3rd ::.
~ 02:45 PM ~

"...nature..."

I am making basil chicken in coconut milk for Neale's dinner.

Mets beat the Braves in extra innings. Always fun to see that.

I am done with grading so it is time to be active. Walking/running inside today, the weather is still sloppy.

~ 10:38 AM ~

"...avoiding social totalities since 1972..."

Yesterday, we spent an hour in the morning looking for new properties on the Coldwell Gundaker website. With the closing of the Roxanna house and Britt's wonderful deal on their new property, Neale had caught the real estate bug. We have four or five projects left at our current home, which are the downstairs bathroom, main bedroom closet, new garage door, basement ceiling and landscape the front. Looking at what we have done since 2004, we have made several improvements. The kitchen was the first project, followed by the bathroom, the backyard rehab, and entertainment room. Likewise, there have been smaller projects like the side yard rehabs, new lights, painting of the basement, and exterior touches to encourage curb appeal. In the afternoon, we drove around Warson Woods, Rock Hill, Glendale, Kirkwood, and Webster to see some properties. With our credit improving and our mortgage banker making all the right moves, we are in a good position. It is looking like spring of 2009 we maybe ready to go to another property. After the search, we had dinner at Bar Louie. The veggie burger substitution option was great and the service was good. However, they ran out of buns soon after my burger was served. A nearby table was not pleased. I tried Stella Artois for the first time. I would have to disagree with the Beer Advocate and give it more of a B/B- for its style.

Between property searches, we went for a walk and had lunch at Sweet Tomatoes. In the early afternoon there was a gathering at Jack's retirement village (Neale's grandfather) to commemorate Betty (Neale's recently passed grandmother) and have Anna's birthday, our niece. The good news for Jack was the addition of the pool project at his home. He no longer drives and the bus only goes to the YMCA once a week. With the new pool he can return to swimming everyday, which is pretty good for a man of his age.

We had some rain overnight, I am grading to today and making some exams. Spring Break is next week. Neale has an election in southern Missouri this week. Also, she has jury duty coming up. In related legal news, one of her coworkers & friends has a husband that is a Saint Louis prosecutor and he just won his first major case.

Linktastic:
riot wheel
CNET bandwidth
death on a bridge
crosswords
Danger! High Voltage
Dear Mr. Fantasy

.:: Saturday, March 1st ::.
~ 11:32 AM ~

"...I'm digging for fire..."

The show last night was very good. It was not best show I have ever seen but well done. The first thing I noticed was alot of people were sitting. Then, I ordered a Guinness and I got it in a glass. That was first. I must have maturing musical tastes.... nah.

Typical Saturday for me. Neale is at work. She is interested in riding since it is close to 60 degrees here.

I am making a French onion soup. Veg friendly, of course.

Previous journal has been archived. Old versions to the right.

Linktastic:
Bowling is back
sat radio in trouble
denials
wine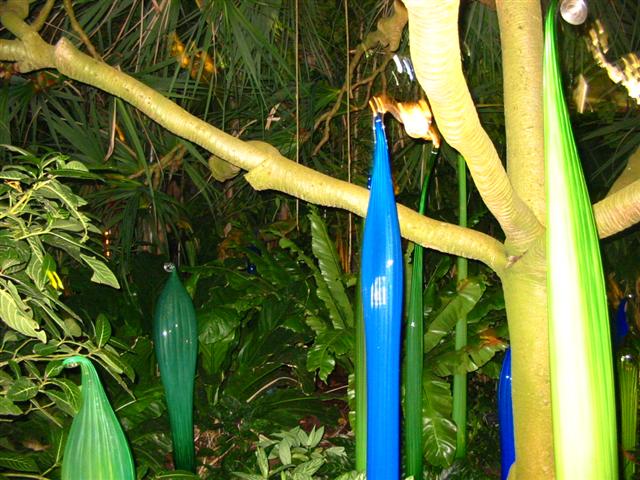 Photo from our 2006 visit to Chihuly. More on our photos page.